Nhat Tan Bridge Project Package 1
Installation Of Interlocking Steel Pipe Sheet Pile (SPSP) Cofferdams
Completed on July 2011
In March 2010, Antara Koh (I) Pte Ltd was awarded by Sumitomo Mitsui Construction Co., Ltd as the Specialist Contractor for the foundation works in this milestone project. The Nhat Tan Bridge spans 8.5km including a 3.9km bridge section over the Red River in the capital city, Hanoi.
Antara Koh successfully completed the installation of 590 nos x Ø1,200mm interlocking Steel Pipe Sheet Pile (SPSP) and 42nos x Ø1,200mm Steel Pipe Piles at 5 cofferdams.
The length of the piles varies between 41.5m to 50m. The piles were installed with a combination of Hi-Pressure Water Jet system to penetrate through dense sand and pebble layers and driven with Hydraulic Vibro hammer and Delmag D128 Diesel hammer.
3 nos of the cofferdams are in the river and 2 nos of cofferdams are on land. Each cofferdam consists of 78 nos of External SPSP and 40 nos of Bulkhead SPSP interlocked with P-P type coupling, and with additional 42 nos of Steel Pipe Pile of length 26.6M driven with Delmag D128 Diesel hammer to below ground or existing river water using a pile extension of 18M to a required pile top of -8.4M.
High precision of the positioning and verticality alignment of the SPSP was required during the installation of each SPSP due to the tight tolerance of the P-P type couplings. One of our technical challenges was to achieve complete closure of the cofferdam for the final External SPSP and also each individual group of 10 nos Bulkhead SPSP. To manage the accuracy, guide beams were installed and 2 surveyors were deployed on-site to closely coordinate each installation. The gaps between P-P type couplings are then subsequently flushed and filled with grout to attain water tight condition for excavation. Both External SPSP and Bulkhead SPSP piles are in-situ welded due to its length of 41.5m to 50m.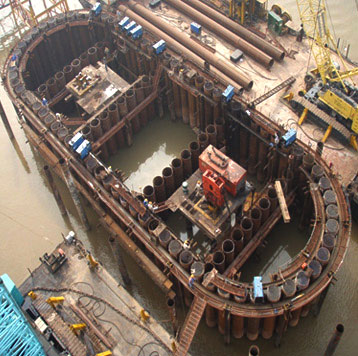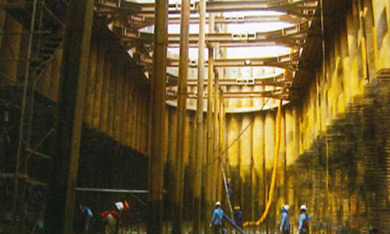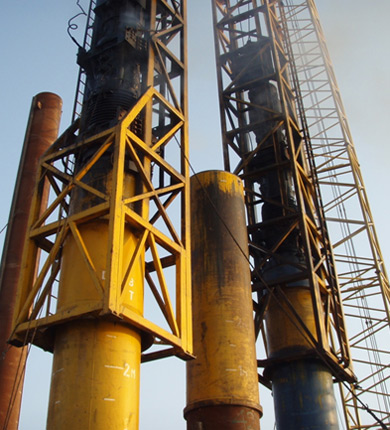 Driving of steel pipe sheet pile using suspension hammers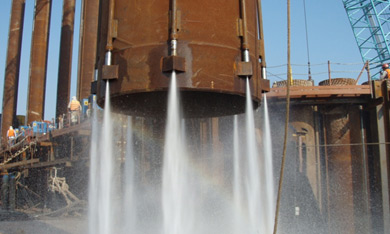 Installation of steel pipe sheet pile with hi-pressure water Jet system
Back to top