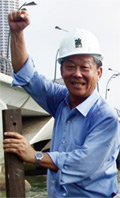 Antara Koh, over the last forty years, has developed into a specialized civil engineering construction Company. Besides the conventional structure and foundation works, we excel in the design and construction of jetty, wharf, quay wall and bridges. We have established track records in Malaysia, Indonesia, Thailand, India, Bangladesh and Vietnam and even in the UAE.

We relentlessly re-invest our profit into the Company infrastructure such as, up to date equipment, design, technology and professional staff. This will enable us to be very competitive to service our customers.

Our Company motto is: "Think, Discuss and Organize. Do It Right The First Time". We work as a thinking team to deliver project on time and on budget.

We look forward to be of service to you.