Construction of Product Export -
Port Dung Quat Refinery
Drilling And Installing Steel Pipe Piles Into Granite Base Rock
Completed on August 2007
Vietnam Oil & Gas Corporation - PETRO VIETNAM constructed the Product Export Port (Package 5B) under the Dung Quat Refinery Project at Quang Ngai Province, Vietnam. The marine loading jetty consists of three jetty heads each with two berths. One jetty head is designed for ships up to 30,000dwt and the other two jetty heads is designed for ships up to 5,000dwt.
We were contracted as the Specialist Foundation Contractor to drill and install the pile foundation into granite base rock. Our scope of works consist of drilling and installation of steel pipe pile into granite base rock, driving of steel pipe piles, carrying out tension and compression load test. We have predrilled and grouted into granite 490 nos. of OD508mm x Thk16mm SPP, 63 nos. of OD914mm x Thk16mm SPP, install by driving 356 nos. of OD508mm x Thk16mm SPP, 6 nos. tension load test and 1 nos. compression load test using reaction piles. The drilled pile length ranges from 21m to 49m and the driven pile length ranges from 44m to 57m.
The predrilling works were carried out using IHI L3, WIRTH B6 and B8 Reverse Circulation Drills with conventional and Down-The-Hole Hammer drilling head and tools. The drill hole is a 1m diameter and the installed piles are grouted in with Grade 30N/mm2 non-shrink grout. The pile is socket 1.2m and 5.0m into fresh granite according to design. For the driven piles, we use a fixed tower piling barge equipped with a DELMAG D100 diesel hammer and Global Positioning System for setting out of pile position. One number 600t compression load test and 6 numbers 200t to 400t tension load test were carried out for the installed piles.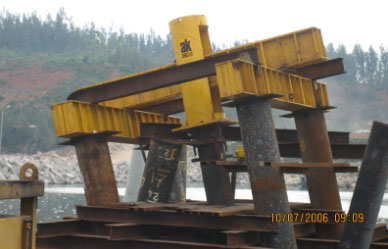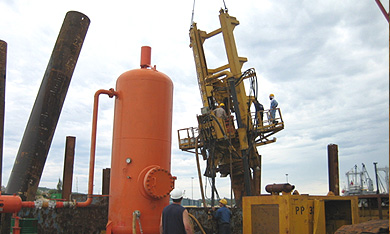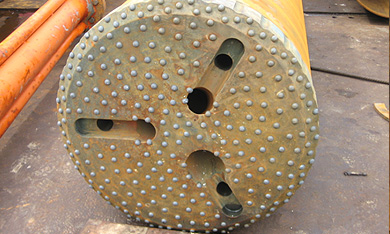 One meter diameter down the hole drill bit and with down the hole hammer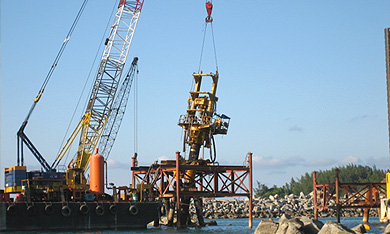 Temporary fixed staging with hydraulic jacking system for leveling and used at rock out crop areas for setting out and support of temporary casing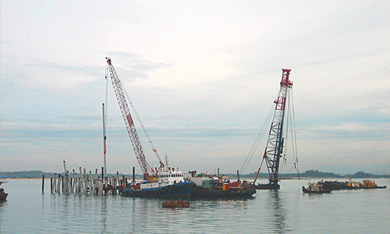 Back to top