Construction of Finger Pier to Existing Shipyard at Keppel Fels Pioneer Yard
Completed on October 2009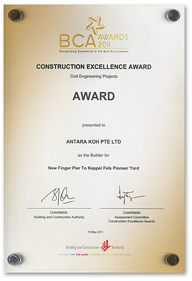 Antara Koh Pte Ltd had successfully completed the Finger Pier for Keppel Fels Shipyard at 50 Gul Road. This finger pier was designed to extend from the existing quay which remained in full operation throughout the entire construction period. We had to coordinate closely with the yard so that our activities did not interfere with the ongoing operation. This 300m length and 25m wide finger pier was founded on 435 numbers of 900mm diameter prestressed concrete spun piles. Maintained load tests were carried out on the driven piles for compression load. Tension load tests were carried out on the ground anchors resisting tension loads. An underwater substation (17.07m x 10.16m x 3.85m) was constructed by pre-casting off site using water-proof concrete and corrosion inhibitor. This precast sub-station was then installed by a 1600MT capacity heavy lift shear-leg crane. The biggest challenge of this project was the construction method of the substation using pre-cast method. This involved heavy lifting of the 400ton substation, launching of the substation into position and supporting it with the temporary staging.
The sub-station was required to be secured at temporary stage, where it sat on the temporary support for integration into the finger pier. During the temporary stage, our temporary work design was prepared for the uplift force during high tide and additional dead weight during low tide. To ensure no movement of the substation during its temporary stage, we accurately pumped in and out seawater from the sub-station to suit the tidal fluctuations. For this project, we also supplied the deck furniture such as fenders, bollards, trench covers and removable kerbs.
Our safety record for this project was zero accident throughout the construction period. We completed the project 30 days ahead of schedule. Our client was able to install all mechanical and electrical works and quay cranes successfully ahead of schedule.
Ships and barges alongside the newly constructed Finger Pier
Shear-leg crane slowly lower down the precast concrete substation to its final position
Launching of precast elements
Back to top
Other Singapore projects