Engineering, Procurement and Construction of Jetty
Puma Thilawa Terminal is located at Thilawa Port Development Area, Yangon Myanmar. The terminal has 200m waterfront area along Yangon River and developed as liquid and dry bulk terminal. In October 2014, Antara Koh was awarded an Engineering, Procurement and Construction (EPC) Contract by Puma Energy Asia Sun Company Ltd for jetty construction. The Contract duration is 12 months.
The project consists of construction of 102m Long Access Trestle with Pipe Rack Support Structure, 168m long loading platform with four underdeck pipe trenches, two mooring dolphins and steel walkways. The jetty is founded on 163 numbers of steel pipe piles and installed with SUC 12500 super cell fenders. The jetty is designed to receive medium range vessels (maximum 51,825 DWT) as well as 3 river barges varying in size of 1,000 DWT up to 5,000 DWT. It is also capable for Ship to Ship operation for medium range vessel as host ship and vessel in the range of 12,000 DWT as second ship.
The Jetty is designed based on Euro Codes. Vessel berthing and static mooring analysis are conducted to configure the arrangement of mooring dolphins and loading platform and to ensure safe vessel berthing and mooring at strong river current. The major challenge during design stage was to cope the diverse design parameters such as 50 years design life; different dredged levels for current and future; design for vast range of vessels ranging from medium vessels to small river barges; environmental conditions of high tidal range, strong current, typhoon, etc.; design for seismic factor of peak ground acceleration at 0.3g and to withstand the lateral load resulted from the slope failure. As the super structure construction work was done in monsoon season, shelters were used for the concreting works to prevent down time due to heavy rains. Total concrete volume of 7,000 m3 and reinforcement steel of 1,900 tons is used in project.
Despite the challenges, Antara Koh delivered the project with good quality works, ahead of schedule & on budget and with good safety record.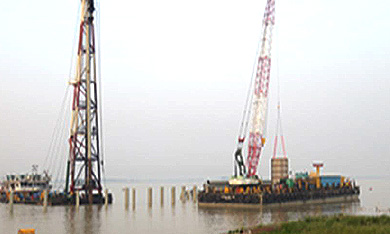 Pile installation at loading platform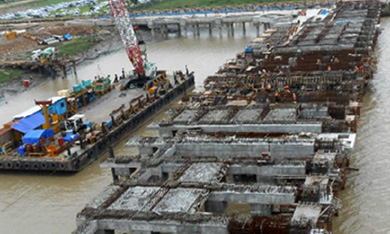 Concreting work at loading platform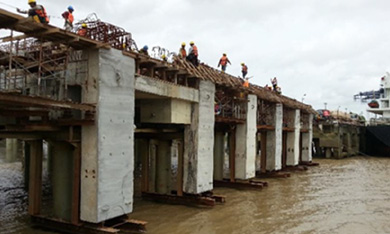 30 ton fender block installation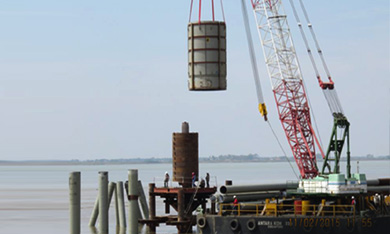 Setting up for statnamic load test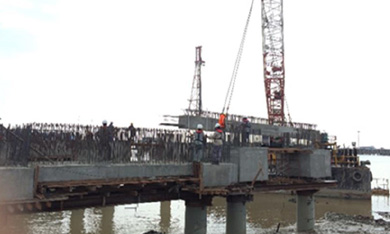 Precast beam installation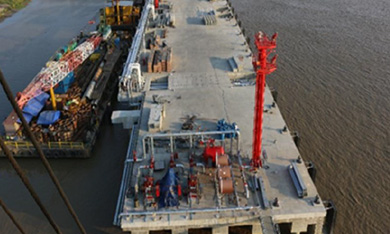 Completed jetty