Construction Of Marine Structures For Hydrocarbon Storage and Distribution Facility At Tanjung Bin, Johor.
Completed on February 2012
The development of this project was initiated by ATT Tanjung Bin (ATB), a joint venture between VTTI and MISC, to create a world class storage terminal with the capacity of 840,000m³.
Antara Koh (M) Sdn Bhd was awarded in June 2010 as the main contractor for the marine structures works of this tank terminal. The project consists of the construction of a 1.3km long trestle and jetty with 5 berths, 12 breasting dolphins and 14 mooring dolphins. The jetty was completed in 20 months and is capable of handling various tanker sizes from 20,000dwt to 320,000dwt VLCC.
The project site is remotely located at a former mangrove swamp reclaimed with sand, while the jetty facility is built on the river estuary where the foundation consists of primarily thick layer of soft marine clay on top of consolidated silt and sandstone. With a tidal range of 4m and water depth of 0.1m to 21m, we had to overcome technical constraints of soft foundation, shallow and deep water marine piling. Various methods including vibro hammer, diesel hammer with piling barge, suspension hammer and reverse circular drilling (RCD) were adapted to overcome these site conditions.
For the RC structures, we combined the use of precast and in-situ elements that substantially shortened the connstruction period. Beams up to 40tons and 60tons were precast offsite in advance to expedite construction time and then launched once pile caps were completed. This is made possible by the close coordination of our fleet of heavy lifting crane barges that ranges from 50t to 250t capacity.
We also successfully constructed the pipe rack structures and equipped the jetty with fenders, mooring system and navigation aids. In addition to the conventional quick release hooks (QRH), the ATB jetty features the use of intelligent Berthing Aid System (BAS) and Environmental Monitoring System (EMS) which will better facilitate vessel berthing especially for VLCC. At the peak of construction, we deployed a 250-strong team to manage our marine fleet of 2 piling barges, 6 crane barges, 5 flat top barges, 6 tugs and anchor boats plus various types of land equipment.
We were commended by ATB for our contribution in achieving 3 Million Safe Manhours without LTI in October 2011.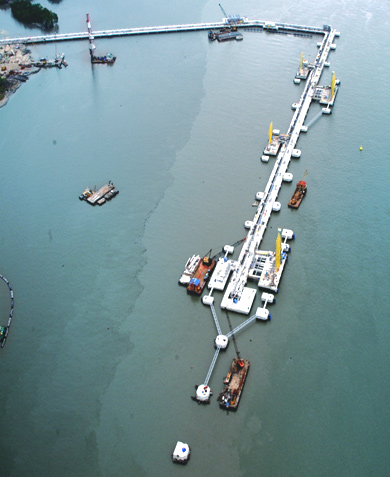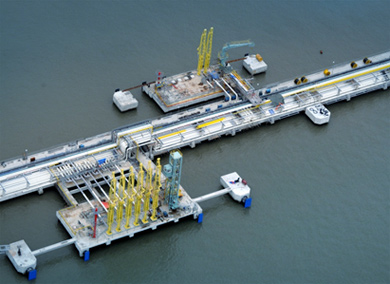 Jetty trestle, roadway, loading platform and berths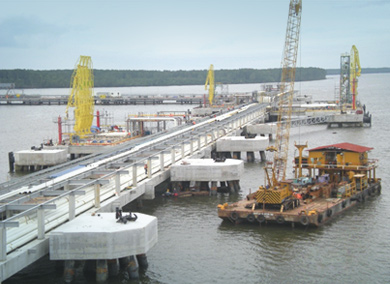 Jetty trestle and mooring dolphins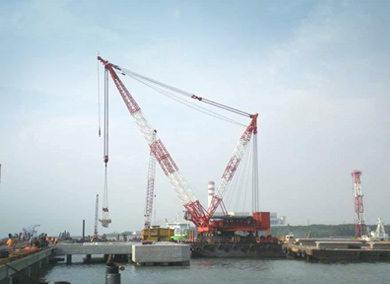 Launching of 60T precast beam
Back to top