Construction of Berth 7 & 8
Port of Tanjung Pelepas, Johor.
Completed on July 2004
The project consists of construction of two container wharfs Berth 7 and 8. The width of the container wharf is 48.7m, the length is 800m and design depth is 19.5m below chart datum. The container wharf is constructed to berth a minimum vessel size of LOA 105.0m, Breadth 14.5m, Draft 7.0m and Displacement of 6,000t and a maximum vessel size of LOA 450m, Breadth 58m, Draft 16.5m and Displacement of 250,000t. This container wharf is designed to cater for the next generation of Super Post Panamax size container vessels.
The wharf structure is supported by 1579 numbers of 900mm diameter spun piles with lengths from 30m to 42m. The slope area of 50,000m2 beneath the deck is re-profiled after piling for installation of grout filled mattress slope protection system which is designed to resist currents of 7.5m/s from 4.0m diameter bow thrusters. The deck consists of 737 numbers of precast beams, 2018 numbers of precast slabs and top up with a 275mm thick insitu concrete. The total concrete volume is 40,000m3 and reinforcement bar is 7,000tons. The crane rails of 1556m in length with storm anchors and crane buffers are installed after casting of insitu deck topping.
The front deck is installed with 68 numbers of SUC1450 cell fenders at 12m centres and 36 numbers of 200 tonnes bollards. The mooring forces are resisted by 198 numbers of deadman connected with diameter 81mm Type 17M tie rods to the back crane beam. The back of wharf is backfilled with sand and compacted for laying of water pipe lines, telecommunications and electrical ducts and finished off with heavy duty concrete paving blocks.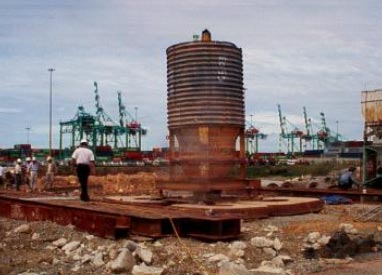 Statnamic load test for preliminary test pile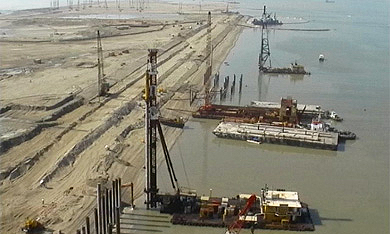 JInstallation of piles by two fixed tower piling barges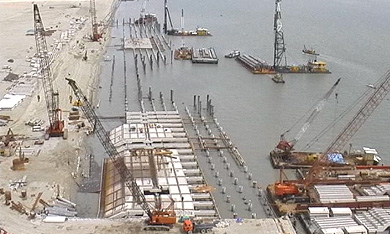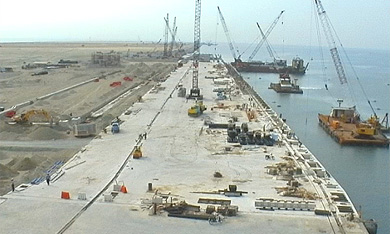 Cast insitu deck construction and installation of crane rails, bollards, GATIC covers and fenders.
Completed container wharf Berths 7 and 8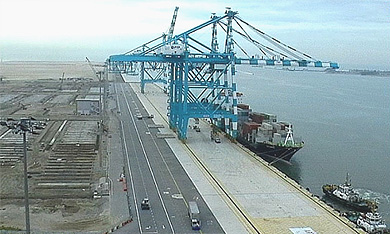 Completed container wharf Berths 7 and 8, with container cranes unload container from a vessel.
Back to top