Suramadu Bridge,
Madura Straits, East Java.
Marine Bored Pile Works
Completed on May 2008
The Bridge spans across the Straits of Madura connecting the city of Surabaya and the Island of Madura. The Bridge is 5.4km long and has two duo carriage ways.
The scope of works consists of:
· Installation of 70 and 288 nos. permanent steel casing Ø2,250mm and Ø1,850mm respectively, with length varying between 30m to 37m, using a fixed tower piling barge equipped with Global Positioning System for accurate positioning. Due to the heavy weight and large diameters, the casings had to be carefully lashed for lifting. Especially those casings which were in the middle of the strait, the current and wave from time to time was severe. The piling barge required six-point mooring to hold position.
· Drilling works of 69 and 107 nos. free-standing bored holes Ø2,200mm and Ø1,800mm respectively, with drilling length varying from 39m to 78m below seabed using WIRTH B18 Reverse Circulation Drill. Bentonite slurry was used to stabilize the free standing boreholes. As most of the bored piles, drilling works had to go through a very sensitive expansive soil layers consists of montmorillonite. The piles were finally founded into hard clay layer at -75m to -100m.
· Installation of pre-fabricated segmented reinforcement cage & pouring of tremie concrete. The concrete for each pile had to be poured continuously, the volume was between 250m³ to 360m³.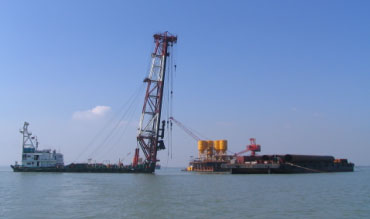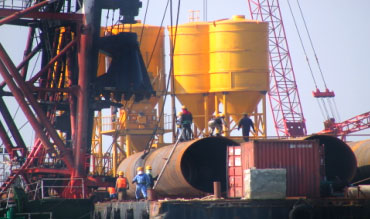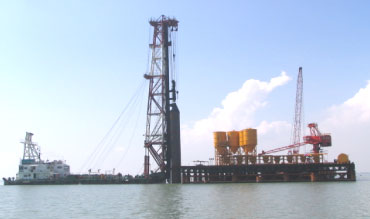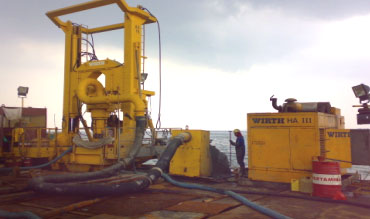 Wirth B18 reverse circulation drill attached with Ø2,200mm drill head to drill free standing boreholes to depth ranging from 39m to 78m below seabed.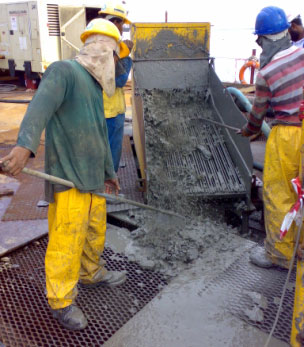 Small pieces of cut soil being separated from bentonite slurry.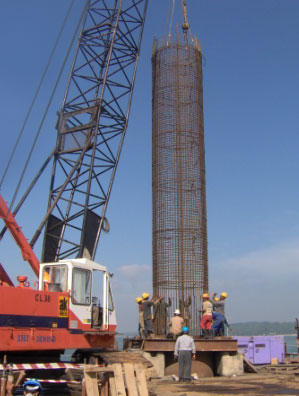 Segmented reinforcement cage installation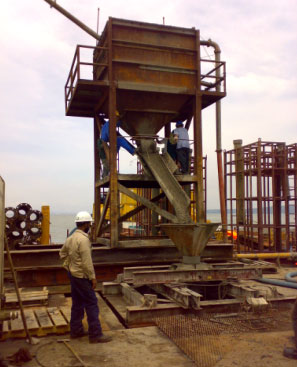 Tremie concrete pouring to complete the bored pile works.