Breakwater For PT Trans-Pacific Petrochemical Indotama Jetties At Tuban, East Java.
Construction of 66 Nos of 20m Diameter Cellular Cofferdam
Completed on July 2006
Antara Koh (I) Pte Ltd was awarded the contract by PT Trans-Pacific Petrochemical Indotama to construct a breakwater consisting of 80 numbers of 20m diameter continuous cellular cofferdam interlink with two arcs. This breakwater provides protection to the Petrochemical Jetties so that it can operate in all weather conditions.
The total length of the cellular cofferdam breakwater is 1.5km. The numbers of flat web steel sheet piles are 20,000 pieces equivalent to 15,000tons. The flat web sheet pile length varies from 21m to 30m in length. The total granular fill into the cellular cofferdam is 100,000 cubic meters. The cellular cofferdam is constructed in water depths of 0m to 25m. During the construction of the cellular cofferdam, the site are subjected to 2 to 3m height sea swells and winds up to 20knots.
Our scope of works consists of taking delivery of straight web sheet piles, pre-interlocking, construction of cellular cofferdam and filling of cellular cofferdam with granular material.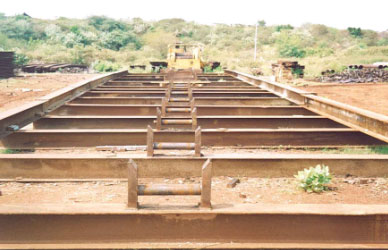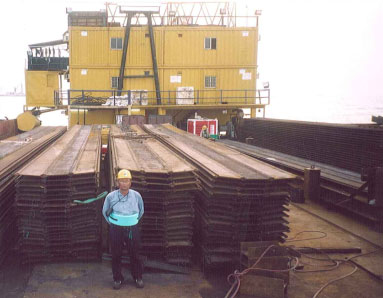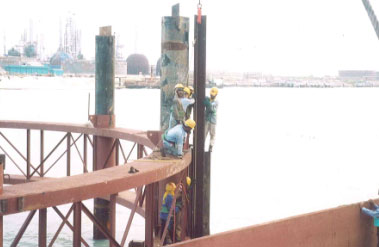 Pitching of flat web sheet pile. Alignment and position provided by the 2 tiers circular template.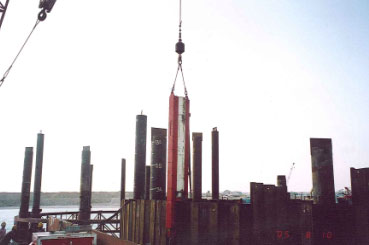 Driving of flat web sheet pile with hydraulic hammer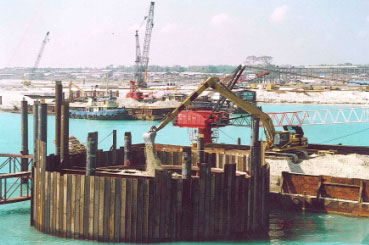 Filling of completed cell with granular material